|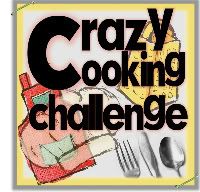 October is Chocolate Chip Cookies Month. So today everyone is posting some amazing chocolate chip cookies recipes. At the end of this post, you will find a linky list that showcases all the recipes that everyone participating has posted. Go vote on your favorite one!
I have a plethora of chocolate chip cookie recipes in my arsenal. I have tried quite
a few
already...and I was a little torn on which one to try next. I decided to go with a thicker cookie because the ones I've made have been thin. I prefer chewy cookies. So this recipe fit like a glove. It comes from Annie of
Annie's Eats
. I'm sure you all have heard of her and visited her blog many-a-times, drooling over all the delicious food she shares...I know I have!
(
Printable Version
)
What you need:
2 cups + 2 tbsp. all purpose flour
1/2 tsp. baking soda
1/2 tsp. salt
1 1/2 sticks unsalted butter, melted
1 cup brown sugar
1/2 cup granulated sugar
1 large egg + 1 egg yolk
2 tsp. vanilla
1 1/2 cups semi-sweet chocolate chips or chunks
Directions:
Preheat oven to 325* and prepare two cookie sheets with parchment paper.
Mix together flour, baking soda and salt.
In another bowl, cream butter and sugars together.

Add egg, egg yolk and vanilla. Mix thoroughly.

Add dry ingredients until combined and stir in chocolate chips or chunks.

Roll dough into balls and place on cookie sheet.
Bake for 11 to 14 minutes, turning the cookies sheet halfway through baking.
Cool on sheets for 10 minutes and remove to wire rack to cool completely.